Knock, knock. Who's there? Opportunity. 
Opportunity who? The opportunity for your business to connect with more potential customers through door hanger marketing, that's who.
A door hanger campaign can help you build your business through direct marketing efforts. A record 82% of customers still trust print advertising over other traditional and modern forms of marketing like email, radio, and television ads.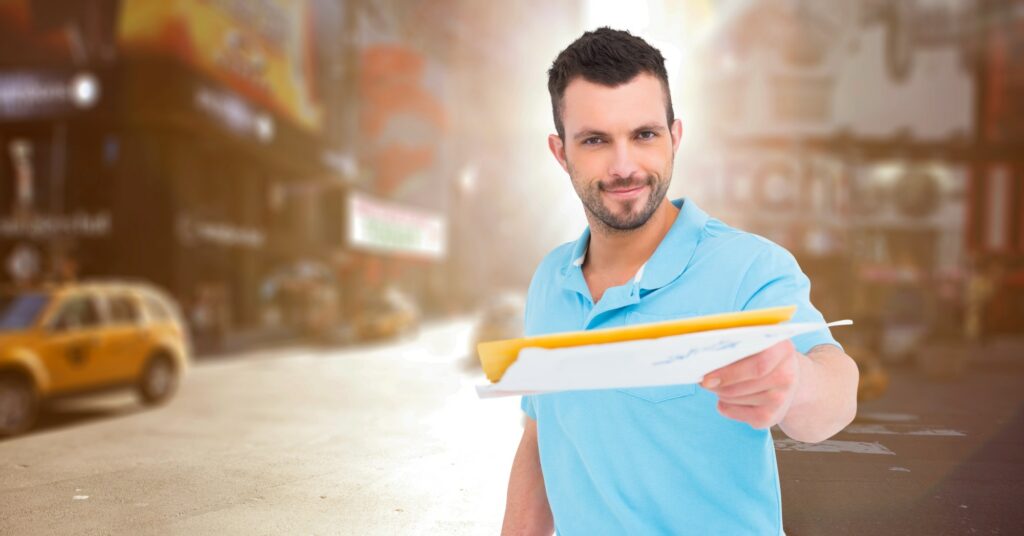 Creating a proper door hanger design is essential for successful door hanger marketing. You want to turn potential customers into new conversions for your business.
Follow these 7 tips below to design a door hanger that is sure to get noticed. And then we'll discuss a door hanger alternative that we think every business should consider!
Read on to get the lowdown. 
1. Use Imagery to Draw in the Customer
Research has shown that you only have 7 seconds to make a good first impression on someone. The same can also be said for marketing materials like a door hanger. As soon as a prospective customer comes up and sees your advertisement hanging there, they are already making a judgment about your business. 
Having the right imagery on your door hanger design will help draw their attention to it. An intriguing graphic or design will also encourage them to want to read more information about your business on the door hanger.
Be sure to use a large, clear picture. You also need to ensure that it is easy to see what the image is and how it relates to your business. Anything too abstract can detract from its main advertising purpose.
2. Choose Bold Color Options
Why not opt for some bright and bold color choices for your door hanger design.? It's even better if you can tie the colors used on your door hanger design into your business's existing brand identity.
By making the colors match, you can help create further brand awareness. And you can also project professionalism. 
3. Select Readable Text and Fonts
A door hanger does your business no good if it is too difficult to read. The right balance of font size and text is essential. Just like you would if you were handing out flyers on the street, you want your door hanger design to be easy to read and digest. 
Incorporating too much text into your door hanger design can be off-putting. If you need to, use bullet points to hit key points of interest and make it easier to read and understand. Include a short and catchy business motto that is easy to remember.
Avoid using overly large, fancy, or cutesy fonts as these can be difficult to read. They can come off as less than professional as well. You'll also want to avoid something getting lost in translation. 
4. Include a Promotional Offer
Coupons and other promotional offers are some of the best ways to pique interest in your business. Your door hanger design is a prime way to deliver a coupon right to your customers. It also offers a chance to get some repeat business.
Traditional advertisements are thrown away after just 17 days. But a door hanger with a promotional coupon has a higher likelihood of being held onto longer.
For restaurants, this could include a free entree or a 20% off coupon for an order over a certain amount. For home service businesses, you could include a coupon for a free estimate or inspection for new customers. For car maintenance and repair shops, you could offer a free oil change.
5. Provide Necessary Contact Information
While this may seem like a no-brainer, it is still important to mention it just in case. Many businesses may decide to only put their phone number. However, it is also a good idea to add information like an email address in case people are more comfortable contacting your business that way. 
Your business's website address is also a good piece of information to include in your door hanger design. It allows customers to go on your website on their own time to research more about your business and the services or products it offers. You can even include your business's social media handles should customers want to follow you on there as well. 
6. Add a QR Code
QR codes are everywhere nowadays. You've probably seen them on advertising posters, in restaurants, and in stores. These QR codes are ideal for linking customers to websites where they can access a promotion or discover more information about a service, app, or product.
QR codes are also being used in restaurants to direct customers to digital menus. If you're looking for a way to make your door hanger design look less cluttered but still informative, a QR code can help you accomplish this.
The QR code includes valuable link information contained inside a unique box that can be placed in a small space on your door hanger. Once this code is scanned using a customer's smartphone, it will automatically direct them to the proper site.
7. Utilize a Double-Sided Door Hanger Design
The double-sided door hanger design gives you many different ways to promote your business. The front and back parts of your door hanger can be used just as effectively in tandem with one another. 
This means you can print the same image on the front and back for maximum impact. Doing this allows your door hanger design to be seen easily and clearly, no matter which way the door hanger faces on the doorknob.
You can also use the front to place your business's logo and motto while using the back portion of the door hanger to print more information, such as special offers and locations. Most businesses use this method in their door hanger campaign strategies. 
Elevate Your Marketing with Thumbtack Bugle San Francisco
Thumbtack Bugle in San Francisco, CA is a one-stop guerilla marketing service dedicated to helping your business thrive. We specialize in flyer distribution and can get your message out to the masses with a very effective advertising medium! We even recommend this advertising channel more so than door hanger design and marketing.
Contact us today for more information on how Thumbtack Bugle can help you with your marketing needs.
Latest posts by Thumtack Bugle
(see all)