Do you own a business in the San Francisco area that's going to be holding a special sale? Are you in a band that's going to be having a show in or around San Francisco? Or are you part of another kind of organization that is trying to build up buzz around a public event near San Francisco?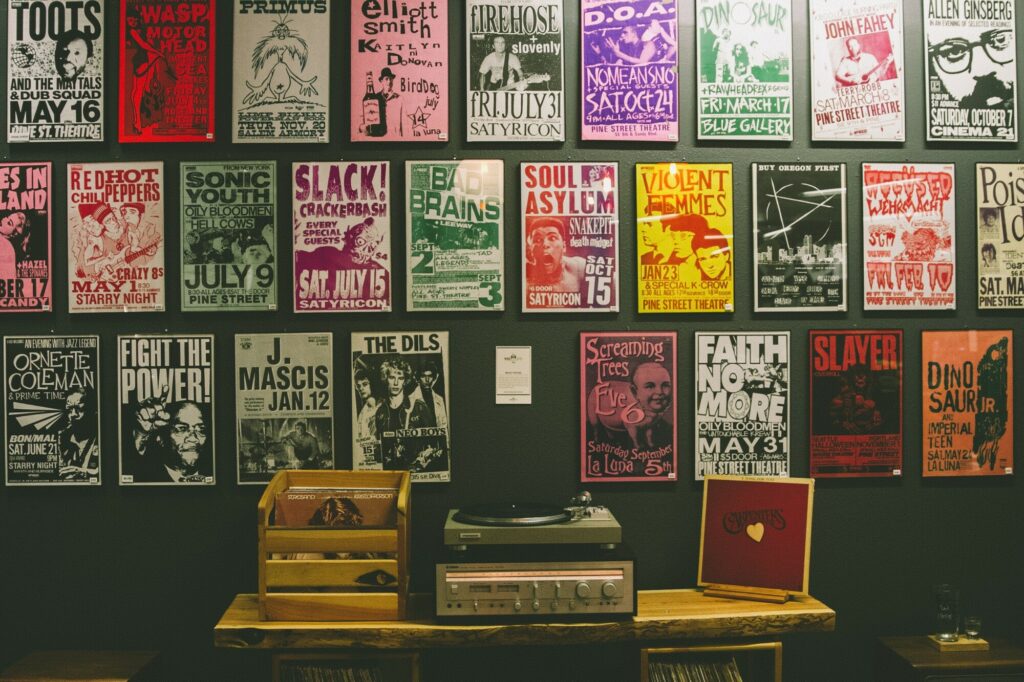 Whatever the case may be, it would be worth working with a company like Thumbtack Bugle that can help you create posters that'll provide you with an opportunity to get publicity. It would also be worth getting poster hanging tips as far as where you should place your posters.
Fortunately, we'll be able to point you in the right direction when it's time to hang posters as part of your poster campaign. We've developed relationships with local stores, colleges, etc. that would be willing to hang posters for you in high-traffic locations throughout the area.
Here are several of the top San Francisco locations to place posters.
Downtown San Francisco and the Surrounding Areas
If you're going to be holding an event in San Francisco and designing posters for it, it'll only make sense to hang them up on boards in the Downtown San Francisco area. We're familiar with many boards in this area that would be perfect for poster hanging.
We would also recommend hanging posters in several specific places that sit in Downtown San Francisco and the areas surrounding it. This would include:
Haight-Ashbury
Clement Street
North Beach
Marina District
Castro District
24th Street
Mission District
Market Street
We know the high-traffic locations and boards that exist in each of these areas. We can see it to that we place your posters in these places.
North Peninsula
Hanging posters in the Downtown San Francisco area will be a great start for your business, band, or other organization. But why stop there? There are also a variety of other places in the San Francisco Bay Area where you should try to hang posters.
The North Peninsula area is an excellent example of this. We would suggest you make a push to hang posters on boards in high-traffic locations that are situated in:
Burlingame
San Mateo
Belmont
San Carlos
Palo Alto
Los Altos
Menlo Park
Atherton
Woodside
Redwood City
Additionally, you will want to try to hang posters on boards in the colleges and universities in this area. This will include Canada College, Foothill College, Menlo School, and, of course, Stanford University.
There are some prime high-traffic locations on the Stanford University campus, in particular, and more than 17,000 students enrolled at the school. We can talk to you about where the best boards for posters on this campus are located.
San Francisco and Marin Schools
The North Peninsula part of San Francisco has a handful of schools that would ideal for hanging posters for an upcoming event. But they shouldn't be the only schools you focus on as you place your posters all over town.
Outside of the schools we just mentioned, there are also lots of other San Francisco and Marin schools that should be on your radar. We're referring to schools like:
College of Marin
San Francisco City College
San Francisco State
University of California at San Francisco
While you're at it, you should also take a look at some of the schools that are located in the East Bay as they could bring about some more attention for your event. These schools include:
California College of Arts and Crafts
Laney College
University of California at Berkeley
University of the East Bay
And if all these schools aren't enough for you, the Peninsula is home to several options that might also work well. There are boards that you can hang posters on at:
College of Notre Dame
De Anza College
San Jose City College
San Jose State
San Mateo City College
University of Santa Clara
Depending on which type of event you're going to be promoting with your posters, we might be able to offer additional poster hanging tips. There are some schools that would be better for promoting certain types of events than others.
South Peninsula
The South Peninsula area of San Francisco sometimes gets overlooked by those interested in trying to hang posters to promote events. But there are boards scattered throughout this part of the San Francisco Bay Area that could work wonders for your promotional efforts.
We can discuss different locations where you should hang posters in:
Mt. View
San Jose
Campbell
Saratoga
Los Gatos
Some of the schools in the Peninsula area that we touched on earlier are situated in the South Peninsula. It's a big part of the reason why you won't want to forget to find high-traffic locations in the South Peninsula to hang posters.
Poster Hanging Tips for These Locations
As you can see, there isn't going to be any shortage of options for those businesses, bands, etc. that would like to hang posters in the San Francisco area. But you will need to put a few poster hanging tips to the test to make the most of this type of publicity.
Here are several tips to keep in mind:
Avoid hanging posters on private property in San Francisco at all costs
Steer clear of sticking posters on utility poles in San Francisco
Search for boards that are specifically designed for posters in San Francisco
Work with a company like Thumbtack Bugle that can lead the way when you want to hang posters in San Francisco
Thumbtack Bugle can do more than just show you where you should hang posters in San Francisco and handle physically putting them up for you. We can also set you up with the design services you'll need to ensure your posters stand out in the crowd in high-traffic locations.
Contact Us for All Your Poster Hanging Needs
Do you love the idea of hanging posters throughout San Francisco but dislike the idea of doing it yourself? Then give Thumbtack Bugle a call and let us take care of everything for you as far as poster hanging is concerned.
From lending a hand with designing your posters to printing the posters out to hanging the posters in the right locations, we can do it all. Reach out to us today to obtain more information about our services.
Latest posts by Thumtack Bugle
(see all)